FanClub's Official Cards!
If you already a member in Andrea Del Boca's FanClub, so you don't have any problem.
if you're not a member yet, please register and come back.
Here you'll be able to get a member card of the FanClub!
With this card you'll be able to buy Andrea's producs from the site
in 20% off the original price on any product.
For israelis: when Andrea will come to Israel only cards owners will
be able to get inside the fan meeting.
(if Andrea will deside to do one).
The prize for the card is: 10 $ (US Dollars)
sample of the card: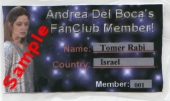 the money you'll need to send to:
Tomer Rabi
Shmuel Sharira 2
Rishon-Lezion
Israel, 75381
when you send the money you need to add: Name, Family name,
address, country, city, telephone.