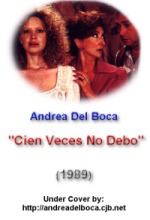 "100 time I don't have too"
Great and funny movie of Andrea Del Boca!
now it's on sale here in the site!
no need for explanation! - everybody knows it or heard about it.
(no translation)
The movie cost 20$ (US Dollars).
You need to send the money to this address:
Tomer Rabi
Israel, Rishon-Lezion
Shmuel Sharira 2
75381
more information: e-mail
phone: 03-9459551
Please send the money + your address and the name of the movie
you would like to get.
The movie will arrive to you in 3-4 weeks after.