The New Andrea!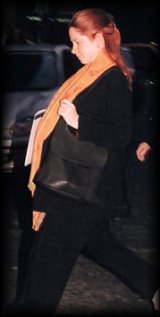 Finally, the baby-girl of Andrea Del Boca was born!
On 15th of November 2000, 8:00 AM.
The name of the girl will be - Anna Del Boca.
Andrea call her girl Anna after her mom (Anna Maria).
The girl was born on a weight of 3,800 kg.
The baby-girl was born on a natural birth, Andrea's father & mother, her
sister were with Andrea the whole time, The father of the baby saw
his girl only afternoon.
The actress maintained her pregnancy for five month, and
after that, she told the world her secret.
After she told it to the world, Andrea went to her parents
house in Miami.
Many times she thought about giving birth in the US, but
at last she decided to go back to Buenos Aires (Argentina) and
give birth there.
For now, Andrea is leaving her things behind and she is ready
to handle her baby-girl, but she need to hurry-up because on the next year,
(2001) she is going back to the Television, again with the Production
Company Pol-ka ("Apariencias").
Wrote: Tomer Rabi